Projects & Networks
The Clinical and Translational Research Center (CTR) was selected by the Japan Agency for Medical Research and Development (AMED) for the Project for Japan Translational and Clinical Research Core Centers. The CTR is strengthening its structures, deploying a unit of specialists to seek early-stage research ideas (seeds) and expand its training functions, network support, clinical research support and establish clinical trial wards.Through these efforts, the CTR provides seamless, consistent support from basic research through to clinical trials, in order to develop clear exit strategies for innovative research seeds from both within and outside the university.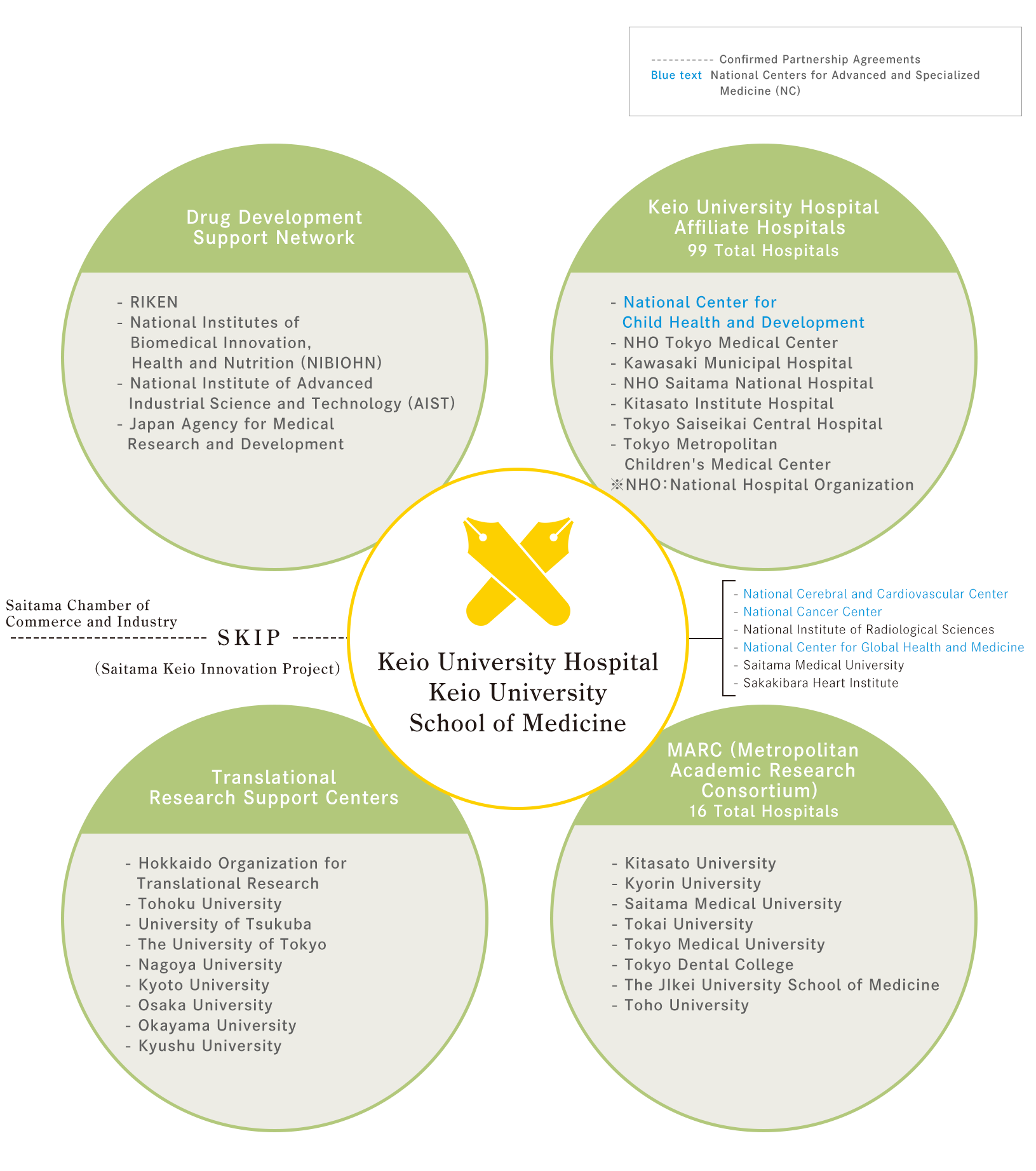 Translational Research program: TR-SPRINT (Strategic PRomotion for practical application of INnovative medical Technology)
Ten translational research support centers have been chosen for the program in order to promptly translate promising basic research results from academia into clinical research and clinical trials, and to create breakthroughs in medicine, medical devices, and more. In addition to preparing the personnel and facilities necessary for actively supporting industry-academia collaboration and research seeds outside the core center, we are required to strengthen our capacity to develop innovative research seeds, and to establish a system that consistently brings the results of innovative basic research to practical use.
Keio University is the only private university to be selected as a Translational Research Support Center. As such, we are expected to actively investigate early-stage research seeds, not only from within Keio but from outside the university as well. To meet this commitment, the CTR has assumed new functions as described below and has established a system that allows for seamless support from non-clinical through to clinical trials. In particular, we aim to form a unique core center that harnesses the strengths of Keio University, such as biomarker and target molecule discovery using omics analysis and cell therapy development using iPS cells.
Functions of the Center
Support for Non-Clinical Study
Consulting on issues such as non-clinical trial design, evaluation, and PMDA response
Research and development resources such as CPC (Cell Processing Center), metabolomics, and robotic screening
Support for Practical Use
Support for complete intellectual property strategies, from patent acquisition to licensing
Support for collaborative research development matching and research fund acquisition
Network Support
Responding to cooperative multi-center clinical trials including international clinical trials
Exploring various sources and translation opportunities for research seeds including regional and university-industry collaboration
Keio University supports all manner of translation--from basic research to clinical trials, from academia to industry, and from Japan to the world.
Establishment of Metropolitan Academic Research Consortium (MARC)
In order to deliver innovative medicine and medical devices originating in Japan to the wider medical community, 16 clinical research institutes, including private universities in the metropolitan area, are now collaborating through the Metropolitan Academic Research Consortium (MARC) to transform the achievements of their basic research into real-world applications. Launched in January 2017, MARC aims to establish a translational research system that unites clinical and non-clinical research and integrates with human resources development, information sharing, and more.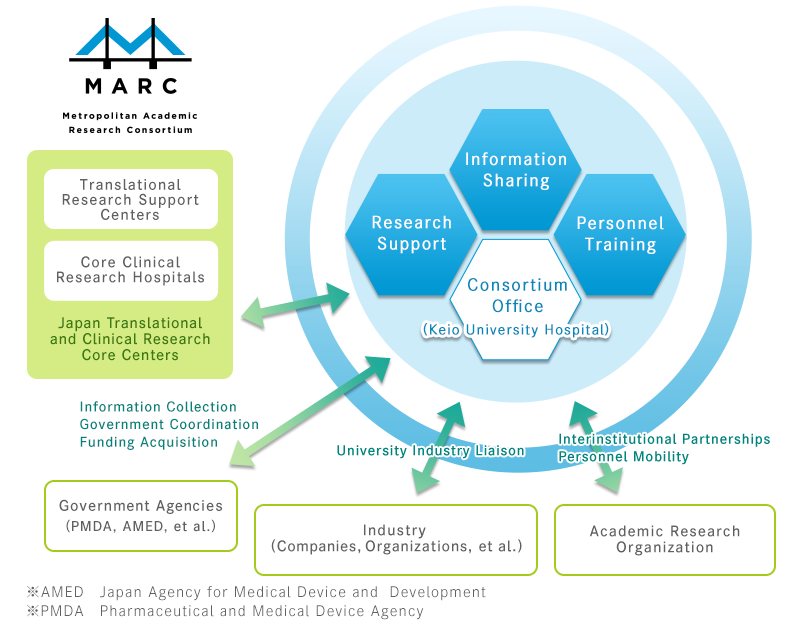 Major Role
Sharing Information on translational and clinical research
Coordinating clinical research and trials
Sharing research resources
Interaction and training between researchers and research supporters
Translational research development and support